Navratri And Its Many Colours
The festive season is finally here! The word Navratri is derived from two Sanskrit words—'nava,' meaning nine, and 'ratri,' meaning nights. As children, we were told of the legend of the divine goddess Durga, whose battle with the demon Mahishasura, lasted 9 days and 9 nights. The festival as we know it today celebrates Durga's victory–symbolising the victory of good over evil. Navaratri holds a special place in our hearts as it signifies the triumph of light over darkness, virtue over vice, and knowledge over ignorance.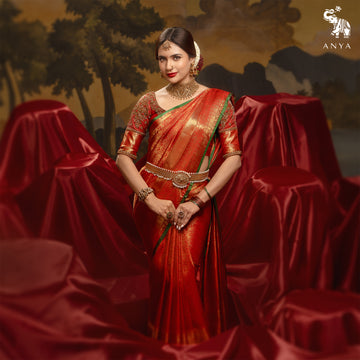 This vibrant festival is not only about devotion and dance but also a showcase of rich traditions and culture. Among the customs and traditions that make Navaratri unique, clothing plays an essential role. So without further ado, let's dive into the Navaratri outfits to elevate your look this festive season! Whether you're attending a Dandiya night, a Garba dance, or simply participating in the traditional pujas, we've got you covered with outfit ideas, styling tips, and more.
Navaratri Colours and Their Meaning
Each of the 9 days of this festive period is associated with a specific colour that is significant and holds cultural and spiritual importance. Here are the traditional Navaratri's colours and their meanings for each day of the festival:
Day 1: Orange 
Shades of orange represent the energy and enthusiasm of youth.  Chosen for the first day of Navaratri, being clad in orange exudes dynamic energy. It reflects the enthusiasm and zeal with which devotees embark on this nine-day spiritual journey.
Day 2: White 
White fabrics, as it does in most cultures, signify purity, peace, and serenity. It symbolises divine purity and also evokes a sense of peace and calm that is essential for spiritual reflection and devotion.
Day 3: Red 
Wearing red clothes symbolises strength, love, and warmth. The colour red is a fiery and passionate choice that embodies strength, love, and warmth. It captures the fierce yet loving character of the goddess Chandraghanta, who is honoured on this day. The vibrant red attire serves as a symbol of devotion and the powerful, protective nature of the goddess.
Day 4: Royal Blue 
Rich and royal blue fabrics reflect the power and grace of the goddess. On the fourth day, the royal blue fabrics chosen by devotees reflect a sense of regal power and grace.
Day 5: Yellow 
Yellow clothing represents brightness and a hopeful future. It radiates positivity and optimism! 
Day 6: Green 
Shades of green symbolise growth, life, and happiness. Green attire mirrors the vibrant and flourishing aspects of life. It signifies the growth of devotion and happiness in the hearts of the worshipers.
Day 7: Grey 
Clothing in grey is meant to symbolise the calmness of the mind. While in grey, devotees pay their respects to a fierce and protective form of the goddess. Legend says the neutral and tranquil grey shade colour helps balance the festival's fervour.
Day 8: Purple 
Rich purple clothing is meant to symbolise the culmination of spiritual growth and self-realisation. This colour represents the peace and serenity associated with the goddess of compassion. It embodies a sense of spiritual maturity and inner peace achieved through devotion.
Day 9: Peacock Green 
Peacock green clothing is an ode to the beauty of nature and the environment, the colour reflects harmony, both with nature and the divine, as the festival reaches its conclusion.
Traditional Festive Wear
Attire during this festive season is vibrant and a great opportunity to dress up. While clothing traditions vary across the country, sarees and lehenga cholis are common.
Accessories & Styling
Now, when it comes to making a statement, the right accessories play a crucial role. Think of intricately designed jewellery like statement necklaces, jhumkas, and bangles. Matching these accessories to the colour of your outfit can create a harmonious and eye-catching ensemble.
Customisation
To truly make a fashion statement and set yourself apart during the festivities, customisation is your secret weapon. Tailoring your attire to your unique style can make all the difference. Experiment with unconventional blouse patterns, or add fusion elements by combining contrasting fabrics and textures. Mixing traditional with contemporary elements can result in a truly distinctive and personalized look that showcases your individuality.
If you want to take your fashion game up a notch and truly stand out during the festivities, customization is your secret weapon. Tailoring your attire to your unique style can make all the difference. Whether it's experimenting with a unique drape to your stunning outfit or adding fusion elements with contrasting fabrics and more.  
Lastly, don't forget the value of a good pair of footwear! Pair your outfit with a comfortable pair of footwear. Whether it's traditional juttis, mojaris, or elegant heels, the right choice of footwear can enhance your overall appearance and comfort during festive dances and rituals. With these accessories and styling tips, you can celebrate Navaratri in style and make a lasting impression, showcasing your unique fashion sense while respecting the cultural significance of the festival!
---