Light Up The Room With Your Diwali 2023 Ensemble
Introduction
Diwali is a lively time when India's spirit truly comes alive. This festive season is captured by the sight of the radiant glow of lamps, the echoes of laughter and music, and the irresistible aroma of ghee-rich sweets and snacks wafting from every home. It's a season of light, fresh beginnings, new experiences, and, of course, a chance for new clothing!
As you put on your Diwali-special clothes and step into a room, it's easy to become a part of this radiant celebration, adding to the warmth and brilliance of the festivities. Although it's just clothing, we do believe that Diwali outfits really have the power to uplift your spirits during the festive season.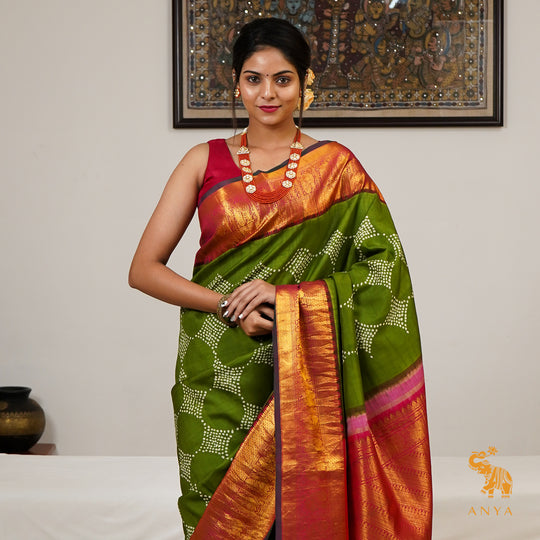 For those who are considering the idea that their Diwali attire should be a testament to the enduring charm of Indian fashion, read on for inspiration for styling your new Diwali sarees.
Colours, Fabrics, and Designs for Diwali Sarees
This season is all about lively colours, joy, and celebration, and sarees are a wonderful way to express your festive spirit. Nine yards of rich colours and textures, and a multitude of ways to wear them. Pick a saree that matches your personal Diwali style!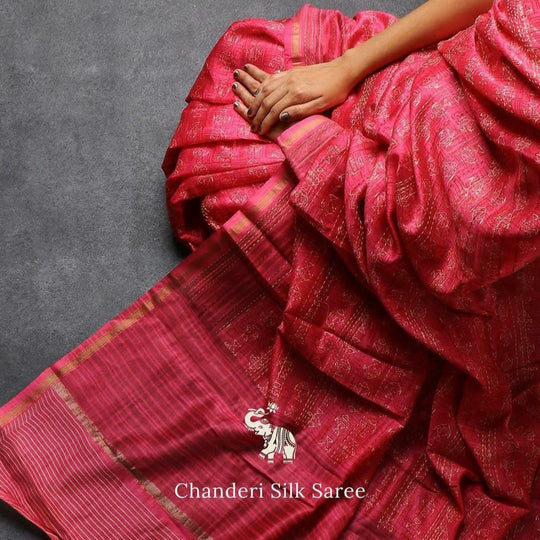 Banarasi silk sarees bring a touch of grandeur with rich colours like maroon, royal blue, or shimmering gold. Their intricate designs connect with India's heritage and add grandeur to the festival.
A classic silk saree offers timeless elegance. Consider shades like deep maroon and regal blue. They reflect the grace and tradition of Diwali, linking the past and the present.
Hand-painted sarees let you express your creativity and artistry. These sarees can have intricate designs or depict traditional stories and motifs. They are one of a kind and will leave everyone asking you where you got it from! You can choose distinct colours and fabrics to create a unique, artistic Diwali look.
Bandhani Silk Sarees and Shibori sarees are perfect if you want to embrace more artistry with these uniquely dyed pieces. Their vibrant colours and detailed designs add a lively touch to your Diwali celebration.
Organza sarees are light and airy sarees that could be worn for more casual Diwali get-togethers.  These sarees are often crafted from a sheer, delicate fabric that lends an ethereal quality to your look. The transparency of the organza allows you to showcase your choice of blouse or underskirt, adding an element of depth to your ensemble.
Kalamkari sarees are a beautiful representation of Indian craftsmanship and artistry. These sarees are typically adorned with intricate hand-painted or block-printed designs that tell stories of tradition and culture. Kalamkari sarees often feature motifs inspired by nature, mythology, or historical tales. Wearing a Kalamkari saree for Diwali allows you to express your appreciation for art and heritage.
Tussar sarees, also known as "Tussar Silk" sarees, are celebrated for their natural, earthy texture and elegant appearance. These sarees are made from Tussar silk, which is produced by wild silkworms native to India. Tussar sarees offer a blend of sophistication and comfort, making them suitable for various Diwali occasions.
From the young and hip, who seek to infuse a modern flair into their Diwali look, to those who exude maturity and grace, the range of choices is truly extensive! With these options, one could say that what truly sets your Diwali attire apart is how you style your ensemble.
The Versatility of Sarees in Diwali Celebrations
A well-draped saree offers its wearer a distinct and unique style. They can be styled in numerous ways, making them the ideal choice for celebrating the diverse moments of Diwali. Drape it with a modern twist or the traditional way, and feel your best! This festive season has various moments, from serious ceremonies to fun family get-togethers, so your sarees can be with you for all of them. Wear them the way you like.
Ideas for Styling
Traditional Styling
Saree draping
Opt for the classic saree draping style, showcasing the intricate patterns and traditional designs. The pleats can be neatly arranged, and the pallu can be elegantly draped over the shoulder.
Colour choices
Choose rich and deep colours like maroon, regal blue, or shimmering gold to reflect the grace and time-honoured customs of Diwali. These colours connect with the festival's cultural significance.
Accessories
Complement your traditional look with traditional jewellery, including elaborate necklaces, bangles, and traditional earrings. Elegant handbags and footwear that match your saree will complete your traditional ensemble.
Hair and Makeup
For a traditional look, opt for classic makeup and hairstyling. Think about elegant updos, modest hairstyles, and subtle, sophisticated makeup.
Modern styling
For family dinners and lively Diwali parties, experimenting with a modern and trendy style can be exciting. Here are some specific suggestions for a modern look:
Saree draping
Experiment with modern saree draping styles and innovative trends. Consider drapes that are more fluid and contemporary. You can try unique pleating or draping techniques to add a modern twist to your saree.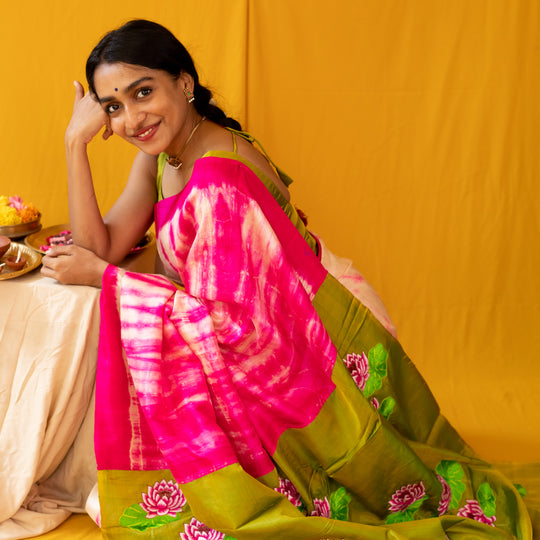 Colours and patterns
Choose contemporary colours and patterns. Think about pastel shades, trendy prints, and modern colour combinations. These choices will add a touch of innovation to your diwali ensemble.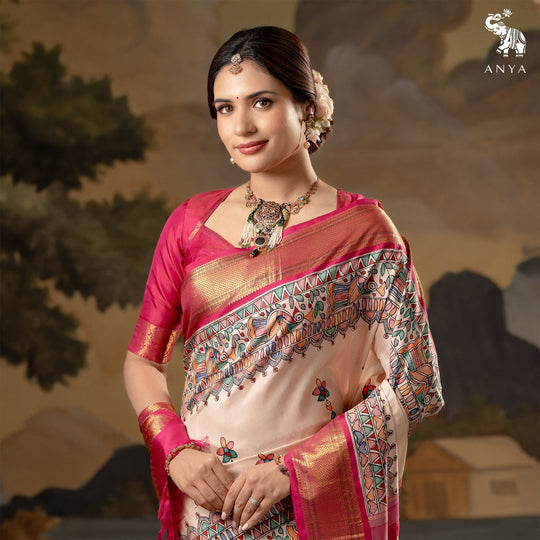 Accessories
Opt for modern jewellery that complements your modern look. Minimalistic and chic pieces can work well. Contemporary handbags and stylish footwear will add the finishing touches to your modern attire.
Hair and makeup
For a modern look, consider contemporary makeup techniques, such as bold lips or trendy eye makeup. Experiment with modern hairstyles, like loose waves or chic buns, to complement your outfit.
The right accessories, be it traditional jewellery, elegant handbags, or footwear that complements your saree, can complete your Diwali look. Browse through our piece on how to style a Kancheepuram saree for more inspiration.
Conclusion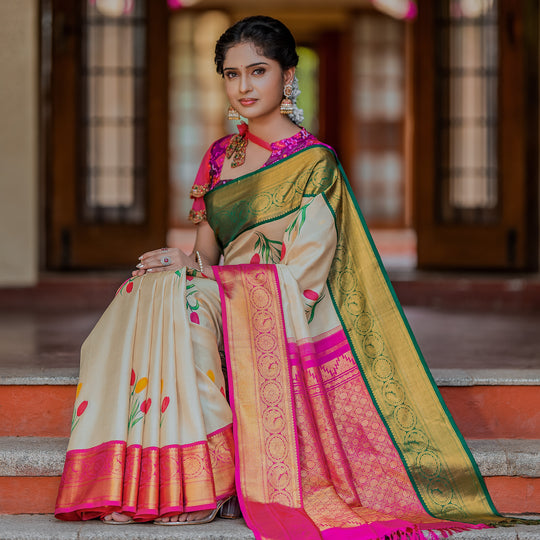 Your choice of Diwali clothing can determine how you feel about the holiday too! Well, whether you choose to adorn yourself in the elegance of traditional attire or infuse a modern and unconventional twist, remember that your Diwali clothing is a reflection of your spirit. Light up the room during the festival of lights with Anya's Diwali collection! 
---